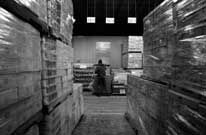 It doesn't matter if the product is excess inventory, cosmetically imperfect, surplus from test marketing, short code dated or minimally out of specification.
Donating food to the MCFB benefits businesses, as well as the community, in the following ways:
Reduces costs by waste removal: Eliminates a company's dumping cost.
Generates tax deduction: The 1976 Federal Tax Law (H.R. 10612) permits the deduction of the costs of producing, packaging and delivering products, plus up to 50 percent of the difference between the cost and the fair market value.
Enhances inventory control: A donation can reduce your surplus of hard-to-move inventory and unsaleables.
Company recognition: The MCFB promotes food donors through a variety of communications and marketing materials, including the annual report, website and social media outlets.
Fosters community goodwill: Donations will lead to recognition throughout the community.
Increases staff morale: Employees can feel good when their company salvages usable food and makes a positive contribution to their community.
Gain liability protection: All donations are fully covered by the Federal Bill Emerson Good Samaritan Food Donation Act that protects those who make good-faith food donations.
Contact Us
For more information or to arrange a food donation please contact:
Ashley Ferreira
(209) 726-3663
Ashleyf@mmcfb.org